Ask any racer, series director, sanctioning body, or track operator to name the main issue discouraging youth participation in motorsports. Cost is the likely answer. For any kind of auto racing, the dollars multiply quickly when factoring in the vehicle, safety equipment, fuel, travel, and entry fees.
In 2020, operators of two Wisconsin oval tracks launched what they believe could be a scalable solution: put high school students in stock cars—that is, genuinely stock automobiles—and have them compete in support races for other series. Chuck Deery, general manager of La Crosse Fairgrounds Speedway in West Salem, teamed up with Gregg McKarns, owner of Madison International Speedway in Oregon, to form the High School Racing Association (HSRA).

A '90s Pontiac Bonneville gets some rear wheel air in HSRA competition. Courtesy HSRA
Freshman to graduate
HSRA's plan seems simple enough. High school students race pre-2005 V-6-powered American front-drive sedans outfitted with some mandatory safety equipment. No performance modifications are permitted. Races take place on 3/8-mile-or-smaller ovals, with speeds generally reaching 50-60 miles per hour.
In addition to the two founding HSRA tracks, two others, Tomah-Sparta Speedway in Tomah, Wisconsin, and Dells Raceway Park in Lyndon, are onboard for the 2022 season.
Racer at the wheel
The fledgling organization, which is not affiliated with any sanctioning body, hired its first director, Jonathan Eckelberg, to manage the group and encourage schools to get involved in the sport. Eckelberg is something of a local celebrity, having raced at La Crosse Fairgrounds Speedway for the past 16 years on a family team started by his father. More recently, he has connected with high school athletic directors and automotive technical programs to help build support for HSRA racing.
"In 2021, we had 26 full-time racers, and we expect that to increase this year," said Eckelberg. "There will probably be about ten different high schools involved." To foster the young talent, HSRA is working to connect the greenhorn racers with local veteran drivers to serve as informal advisors.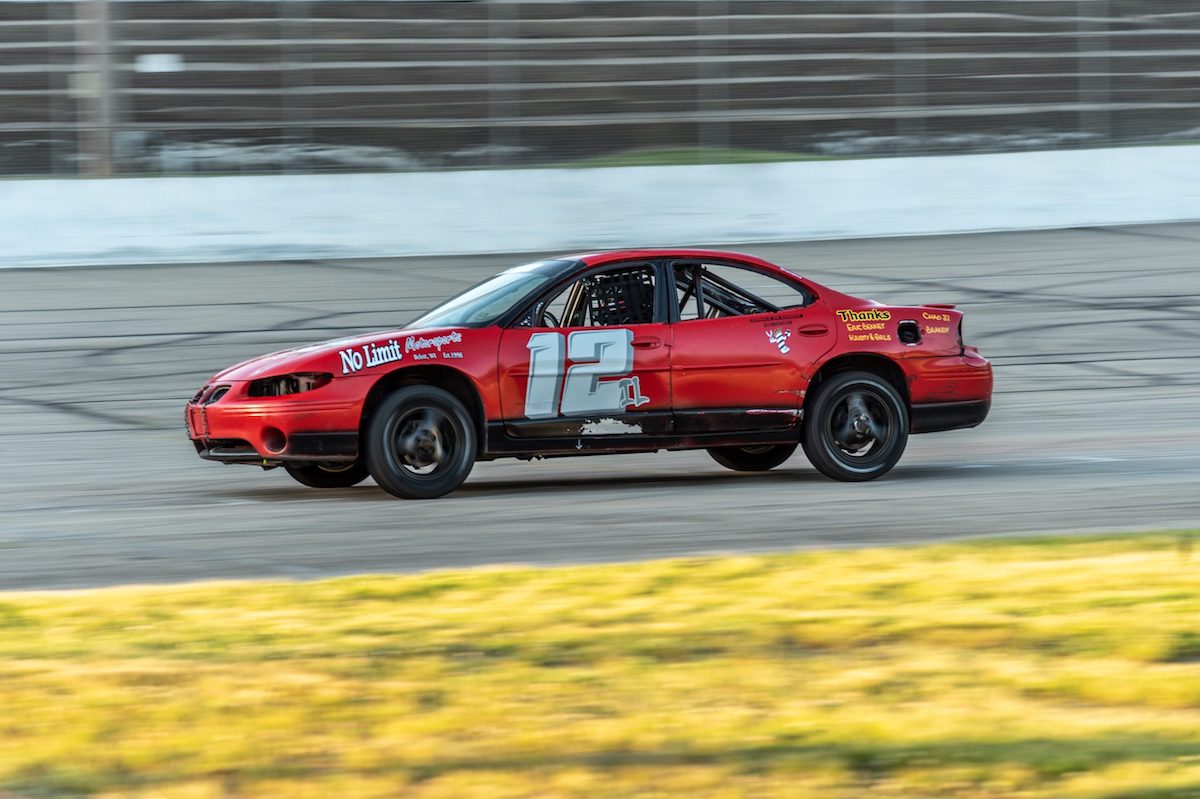 HSRA racers compete on 3/8-mile and shorter ovals. Speeds generally reach 50-60 mph. Courtesy HSRA
School spirit
Although high schools are not directly involved with the racing and do not field teams, HSRA rules require the cars to display their drivers' school colors and mascots. The racing remains an individual effort, with the students owning, campaigning, and maintaining the car. There is no limit on the number of students who can compete from a given high school.
So far, one Wisconsin high school (Melrose-Mindoro) has made auto racing a letter sport, just as the school gives such recognition to trap shooting and rodeo. To earn the letter, student racers must compete in a minimum of four HSRA events, be in good academic standing, and demonstrate sportsmanship at all times.
HSRA Racing: The basics
The group's season runs from June through September, with each participating track holding up to six regular-season events. The racers can compete for one final season after graduation.
"It's one heat and one feature per race night for racers," said Eckelberg. "The feature runs 15 to 20 laps, and the heats are 8 to 10 laps. Each track has about nine racers that are there regularly each week."
Racers compete for points. Some travel to multiple tracks but are not required to do so. Eckelberg explained that any student racer who competes in at least three HSRA events during the regular season may also compete in the regional championship, which is held at a different track each year. An individual track can also crown a track champion.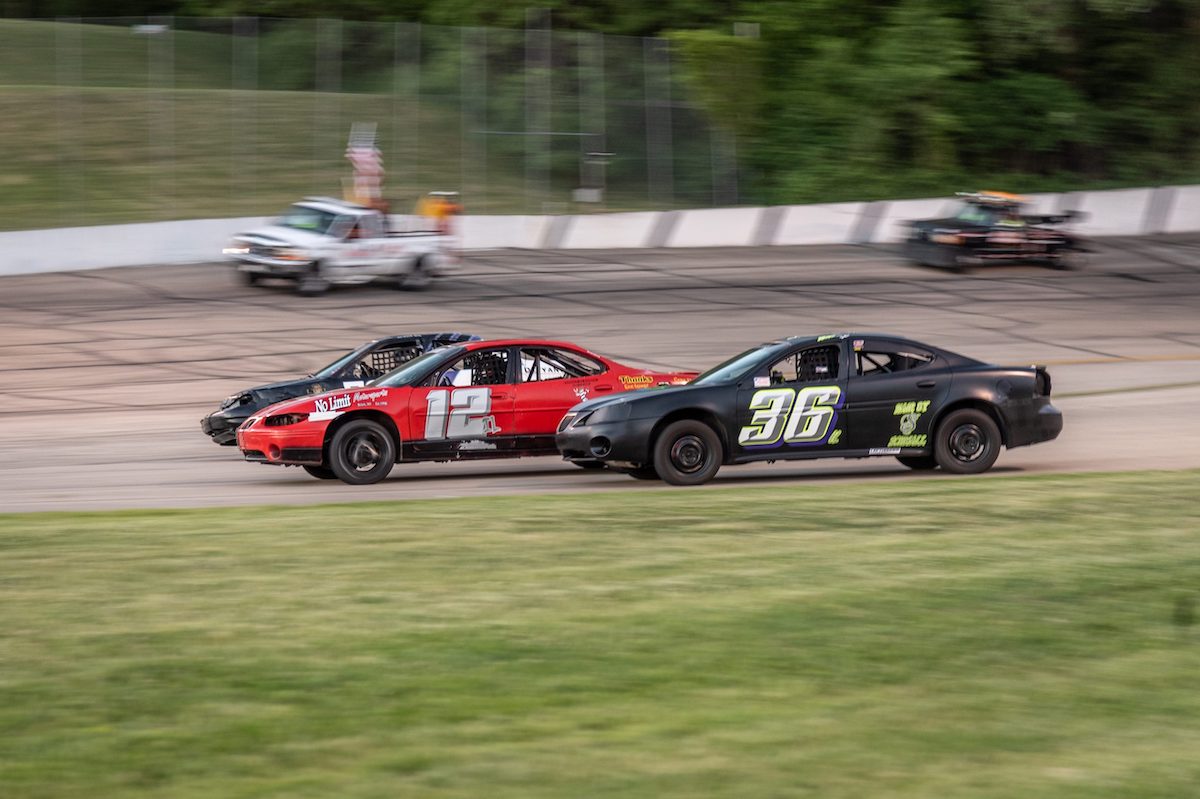 The '90s-era Pontiac Grand Prix, popular in the Midwest when new, is a popular choice for HSRA racers today. Courtesy HSRA
True "stock car" racing
HSRA presents true stock-car racing—a rarity in modern motorsports. These cars must be front-wheel drive, V-6-powered American sedans, made before 2005. Import V-6 models are not eligible, although the domestic sedans are usually cheaper to buy, anyway.
"We're typically looking for stock cars from the street, then allow the students to learn the mechanics on them, and to provide some consistency with what they are racing," said Eckelberg.
Both overhead-valve and overhead-cam engines are allowed but must be original to the car and have a maximum displacement of 3.8 liters. This racing is not necessarily a horsepower contest. HSRA encourages drivers to attend practice days prior to the season start, and each track allows multiple practices on race day.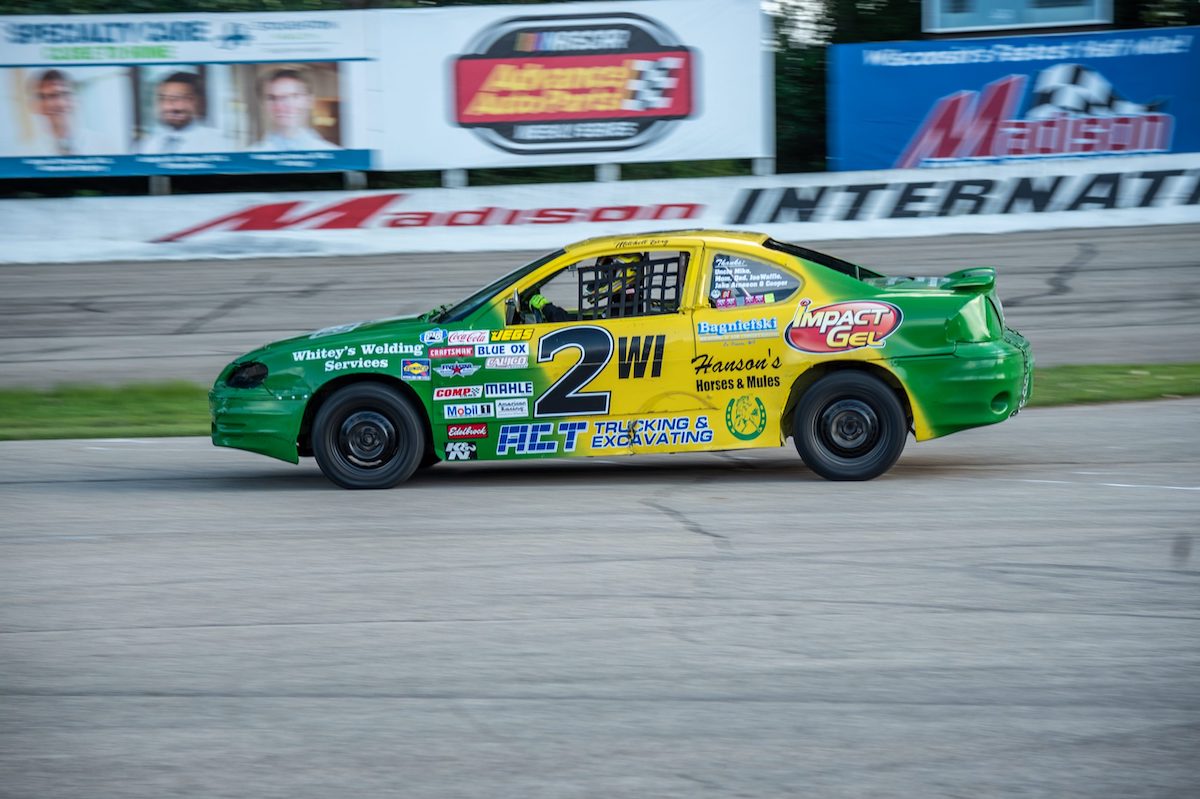 Courtesy HSRA
Safety first
There are some slight deviations from stock vehicle condition for racing durability and safety—which also makes the cars ineligible for street driving. All side and rear glass and external lights are removed, except the rear high-mounted stop light. The exhaust must exit behind the driver, under the car. Radiators must run water only. A stock fuel tank is allowed if it is located ahead of the rear axle. Otherwise, a trunk-mounted fuel cell must be used (and can be used in any case).
The cars must retain the stock brakes, steering and suspension, with no modifications. Steel wheels are recommended for greater race durability, however. All-season tires must have a date code of 2019 or older, and all four tires must be the same size and aspect ratio.
The group requires that cars have a two-point roll cage, a door plate on the driver's door, and window nets. Bumpers must be secured to the cars via chains or welding. Racing seats are allowed, but not required, and all airbags must be deactivated.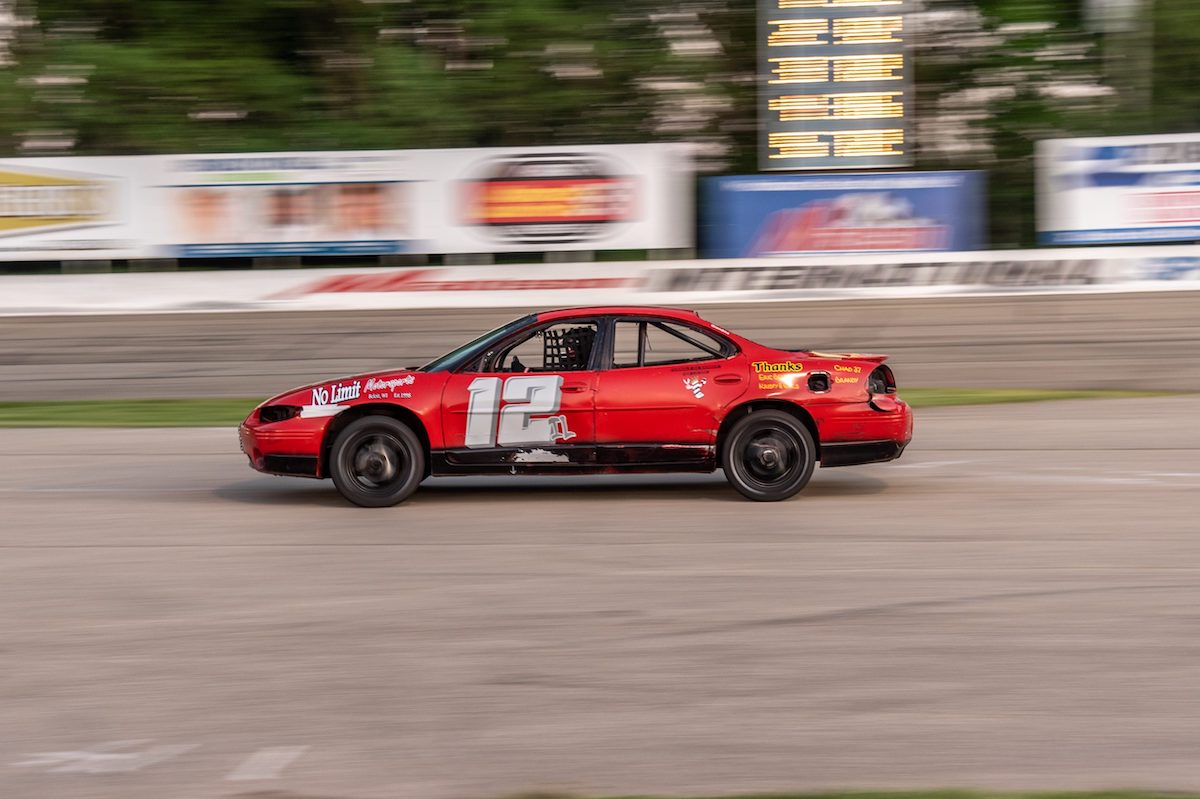 HSRA race cars remain stock except for addition of some safety equipment. Courtesy HSRA
Keeping costs in check
Eckelberg said HSRA follows NCAA rules for student athletes, and therefore awards trophies, jackets, and patches, but no monetary prizes. "If students go on to attend college, we don't want to make them ineligible to continue in sports because they were paid to be an athlete," he said.
Sponsorships are allowed to help reduce racing costs. Kwik Trip, a regional Midwest convenience store chain, awards gift cards to top finishers throughout the season to help mitigate the cost of food and fuel at the events. "It's one way that we're working to keep student racers' costs down," Eckelberg explained, adding that racers can purchase a $25 membership card which is good for entry to every HSRA event for the season. He is also exploring scholarship opportunities and other benefits for racers.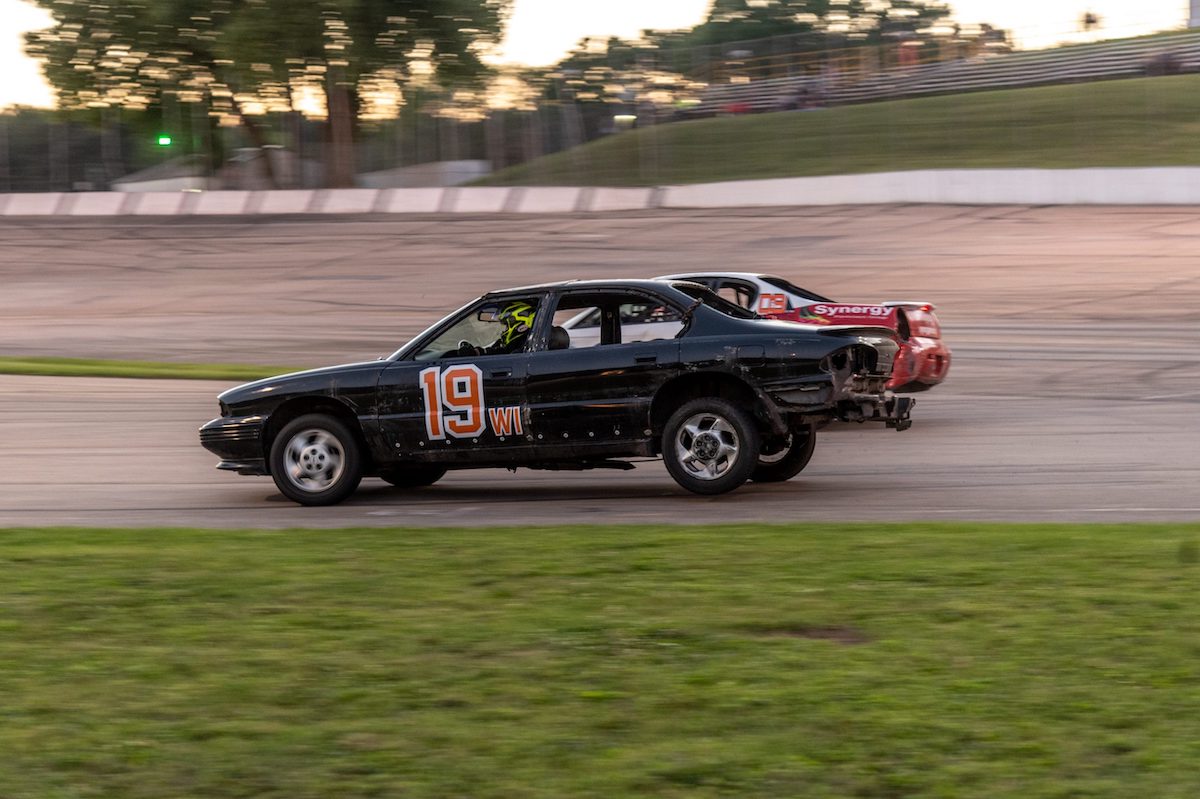 HSRA rules call for removal of side and rear glass and exterior lights. Courtesy HSRA
Aiming for growth
Eckelberg reports an enthusiastic response to the racing from spectators and parents. Now, he explained, the goal is to establish the association in the Midwest and beyond:
"This is only the third year of HSRA, and we're already growing and connecting with automotive programs at the universities near the track and looking to get more involvement from the high schools. Droves of people are coming out to cheer the drivers on race nights. We're getting a lot of new fans and families exposed to the sport."
As HSRA enters its junior season, the costs to field a car are still low, while the engagement is at an all-time high. That's a calculus worth celebrating.
High schools and tracks interesting in learning more about the HSRA can contact Jonathan Eckelberg: jon@highschoolracing.org